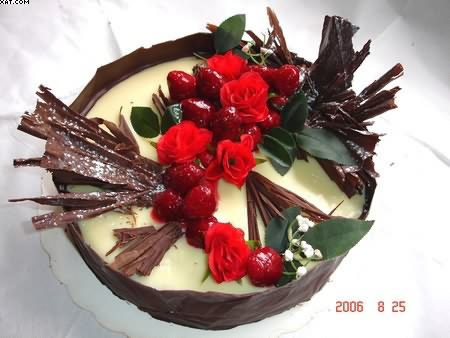 How can I do?
Beat the cheese with the sugar, add the lemon zest and the two beaten eggs, beat well until creamy.
Make the bottom of the cake by crushing the cookies roll pastry. When powdered, add the softened butter and mix well. Spread the mixture into the mold bottom 24 cm in diameter (pan hinge and put butter parchment on the bottom and around the paper.). Bake for 15 minutes at 180 ° C.
Then add the cheese mixture and cook for 1 hour (more or less up to you).
To allow to cool in the oven for 1 hour at room temperature and after.
Prepare the ganache. Boil the cream with agar and stir the chopped chocolate any purpose. Mixing. Recercler the cake and pour the chocolate over the cake. Let freeze at room temperature.
Melt dark chocolate: a black outline to make chocolate. Take a strip of paper and aluminum measure the circumference of the cake. Cut the strips to size, and fold, making it a little larger than the cake. Spread melted chocolate on it and wrap it around the cake, which has since décerclé. Wait a moment to harden it and then remove the aluminum.
Ingredients:
600g cream cheese natue
250g mascarponne
220g sugar
Zest of 1 lemon
2 eggs beaten,
1 package of vanilla sugar
30g cornflour For the background:
250g biscuit
125g butter for the ganache:
90g creme fraiche
220 g white chocolate
3 g of agar-agar for the contour:
Dark chocolate
Total time: Preparation + cooking time: 90 min
Yield: 8 people