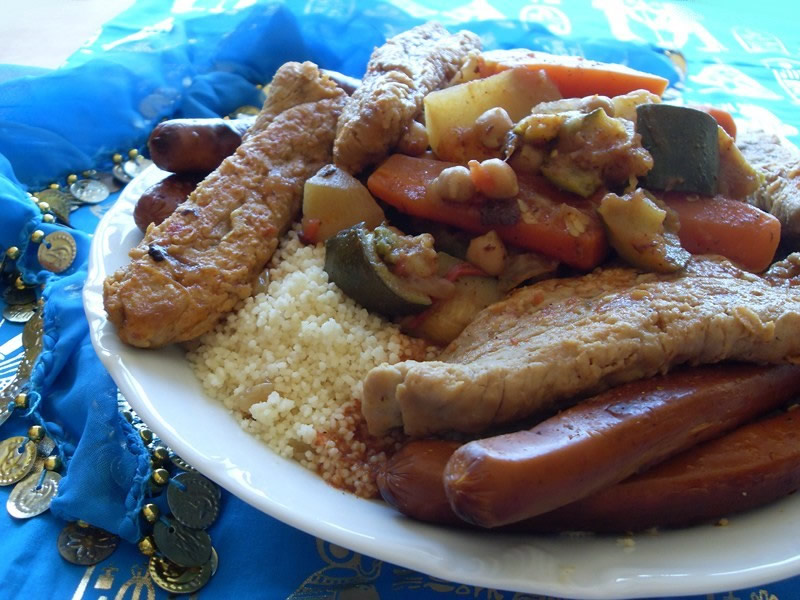 How can I do?
Peel and wash the vegetables before cutting them into fairly large pieces.
In a saucepan over medium heat, heat 2 tablespoons of olive oil with vegetable butter to a simmer and make it easily the sausages brown on each side. Take sausage and set aside.
Then put the pieces in the pan Seitan (4 at once). Remove them as soon as they are golden on each side. With sausages, remove the pieces of seitan and book. (Seitan recipe below)
In the pan 1 tsp. Tablespoon of olive oil and onion pieces blanch.
Then add the pieces of carrots and turnips and stir for a while to simmer for a few minutes (about 5 minutes). Chopped tomatoes and zucchini and tomato coulis. Stir with a spatula for another 5 minutes before pouring a liter of water and place the spices, salt and pepper.
Cook 45 minutes over medium heat.
Set to chickpeas, sausages and pieces of seitan end (to warm it) and exit (no longer) an additional 10 minutes on low flame.
Note: Keep the sauce for seasoning vegetable couscous.
In a large saucepan, bring the water with the salt and oil for cooking. From the first boil the couscous and raisins. Remove from heat and let stand the pan.
Then the pot on low heat and stir with a fork to finish cooking the meal come from small grains needs.
Seitan Recipe:
Show flour in a large bowl gluten, rice flour, nutmeg, pepper, malt yeast. Mix well until smooth.
Add the soy sauce, milk and knead until you have a texture similar to a huge chewing gum
After a homogeneous mixture, let the dough rest for about ½ hour seitan. After working a little rest in the hands easily add seitan until smooth and glossy surface.
Divide the dough into 8 pieces seitan.
Take sufficiently high a cooking vessel and plunge the pieces one by one into the boiling broth. Triple Seitan cooking in volume.
Once the pieces of seitan in their broth and cover the pan reduce the power of fire.
Long should be soft enough, but for a soft seitan cooking. You only need that there is a small central warehouse in your container. Boil for one hour. Seitan during cooking of the surface of the nutrient solution.
Ingredients:
4 large vegetable sausage


500g homemade seitan cut into 8 pieces (see recipe below)


3 large carrots


3 large zucchini


2 turnips purple


265g cooked chickpeas


1 tomato


1 onion, sliced ​​into small pieces


3 cup tablespoons of olive oil


15g vegetable butter


3 cup chopped tomato coulis curved


2 cup coffee bent mixing spices for couscous


1 cup coffee powder Paprika


1 cup of coffee with cinnamon


1 liter of water


Salt and pepper For the couscous:


400g semolina medium


100g raisins


60 oz water


1 cup teaspoon salt


1 cup olive oil for the seitan:


150 g gluten flour


65g rice flour


3 tablespoons tamari soy sauce cup


1 pinch of nutmeg


1.2 cup of freshly ground black pepper


25 g yeast malted flakes


30 cl soy milk natural for the broth:


1.5 liters of water


2 vegetable stock cube


2 onions, chopped


1 cup chopped gomasio


One cup of coffee mixed herbs


1 cup of coffee chives


1 cup of coffee thyme


1 cup coffee bay


Total time:
Preparation + cooking time: 150 min
Yield:
4 people
---
Carrot
,
Chickpeas
,
Dishes with tofu, seitan
,
Organic Vegan Cuisine
,
Turnip
,
Zucchini
[related_posts_by_tax format="thumbnails" image_size="medium" posts_per_page="9"]