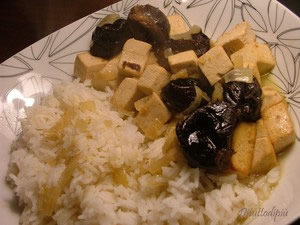 How can I do?
The day before, make the marinated tofu: Skip the vegetable broth through a fine sieve and mix it with white wine. Bring the mixture to a boil and reduce by half. Salt and pepper. Cool and dip the tofu cut into cubes in the refrigerator overnight.
Before serving, fry the onion in olive oil. Diced tofu, drained and let them brown on all sides.
Meanwhile rehydration of plums in wine sauce. When the tofu is brown, with the sauce and prunes and simmer for half an hour.
Ingredients:
300g tofu
500 ml broth
300ml dry white wine
1 onion, chopped
125g pitted prunes
Salt
Pepper
1 cup olive oil
Total time: Preparation + cooking time: 40 min
Yield: 2 people