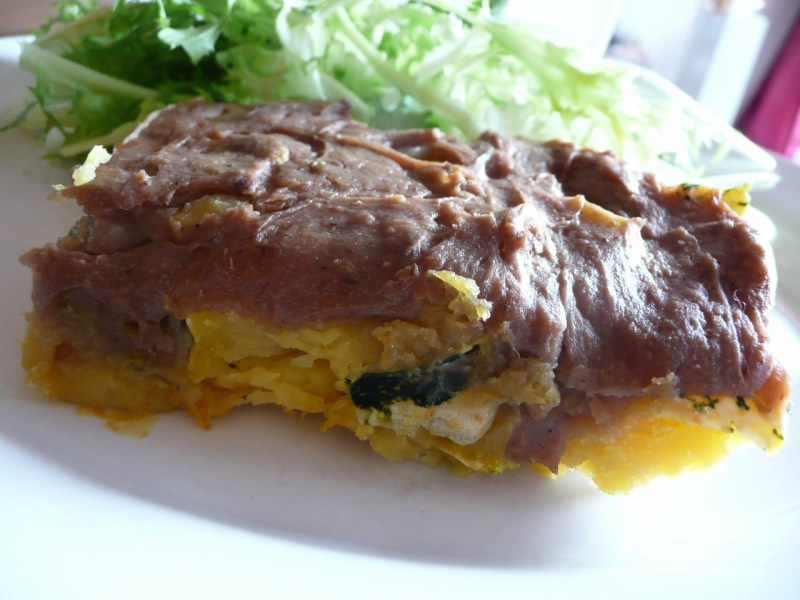 How can I do?
Cut the pumpkin into strips Patidou the same way as potatoes in a potato gratin. In a pan with garlic and onion with a drizzle of olive oil, then the sliced ​​Patidou and salt. Down over low heat and cover. Cook for 20 minutes without too much stirring, crushing the sliced ​​Patidou. Book.
In a small saucepan, add the chestnut puree and mix with a tablespoon. Solve the cornstarch in a cup of water and pour the mixture with mashed chestnuts. Stir well so that the mashed leaves no lumps. Season with salt and nutmeg. Heat and stir until thickened preparation. Cover and set aside.
Oil a baking dish rectangular and distribute the sliced ​​pumpkin Patidou. Then you brush the sauce all mashed chestnuts.
Put every ten minutes at 170 °.
Ingredients:
1 kg pumpkin Patidou
25cl chestnut puree
125 ml water
2 cup chopped potato starch
2 cup tablespoons of olive oil
2.1 onion, sliced
2 cloves of garlic, finely diced
1 tsp nutmeg
Salt Herbamare
Total time: Preparation + cooking time: 55 min
Yield: 8 people