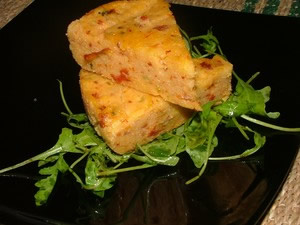 How can I do?
Boil the broth and slowly the polenta. Stir and cook for about ten minutes.
With a grinder, cut into small pieces olive and tomato. Add the polenta and Parmesan, stirring to incorporate.
Oil a baking dish 20 cm in diameter. Y pour the polenta in good packaging. Allow to cool and place it in the refrigerator until it is fixed then.
Turn out, it is very easy! Cut into slices that you back hot before serving with a salad of arugula to the pan!
Ingredients:
1 liter of vegetable stock
170g polenta
Olive oil
3 cup Parmesan
2 handfuls of green olives
5 or 6 dried tomatoes
Total time: Preparation + cooking time: 25 minutes