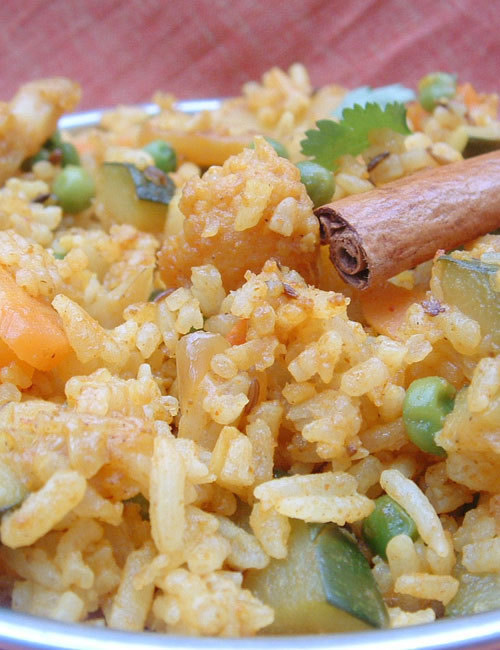 How can I do?
Rinse rice 2 or 3 times.
Heat a little oil in a pan. When the oil is hot, place the cumin, bay leaves, cloves, pepper and cinnamon. Add the onions.
When the onions are browned, ginger and garlic paste and mix. Insert and stir the curry and turmeric and tomato paste. Add all the chopped vegetables and mix well.
Add the rice, salt and double the quantity of water in rice. Cover and cook about 15 minutes over medium heat. Stop the heat and leave covered for another 5 minutes.
Ingredients:
200g basmati rice
1 onion
Fourth carbon
Flower
1 potato
02:01 zucchini
1 carrot
Peas
3 cloves of garlic and ginger paste
1 cup chopped tomatoes mixed with concentrated water
1 cup of coffee cumin
2 or 3 bay leaves
2 or 3 cloves
2 or 3 peppercorns
Cinnamon
1 and 1/2 cup curry powder
1 cup of coffee turmeric
Water
Salt
Oil
Total time: Preparation + cooking time: 40 min
Yield: 4 people