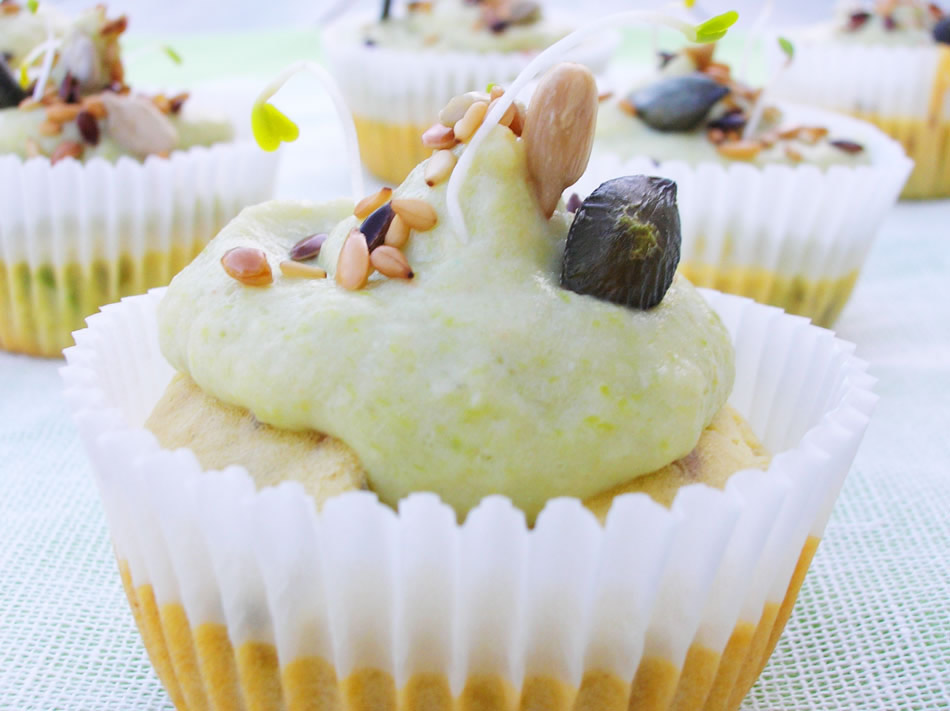 How can I do?
Cut the asparagus to the base (2 cm) and peel. Baking with steam for 20 minutes.
Meanwhile, in a bowl, mix the flour, yeast, egg, soy milk and yogurt. Whisk until a smooth paste
Preheat oven to 180 ° C
Once cooked asparagus, place them in a bowl of ice water for 5 minutes. Drain and cut into slices. Half of the slices in the batter mix and distribute the mixture into molds cupcakes or muffins.
Bake for 20-25 minutes.
When baking cupcakes, place the remaining asparagus in a saucepan with the cream of the liquid soy. Season with salt and pepper and bring to a boil. Add the agar-agar and keep boiling for 1 minute. Take, mix and let it cool down from the heat.
To keep this mixture into a piping bag and cool.
If your cupcakes are baked, leave to cool. You can then put the icing on the asparagus with the piping bag.
The training by doing some seeds and some alfalfa sprouts.
Ingredients:
230 g green asparagus
50 g flour
35 g soy milk
35 g soy yogurt
20 cl liquid cream soy
25 g olive oil
1 egg
2 g of agar
1 handful of mixed seeds (flax, sesame, sunflower, pumpkin) grilled
2.1 tsp baking powder
some alfalfa sprouts (in health food stores)
Salt and pepper
Total time: Preparation + cooking time: 60 min
Yield: 4 people