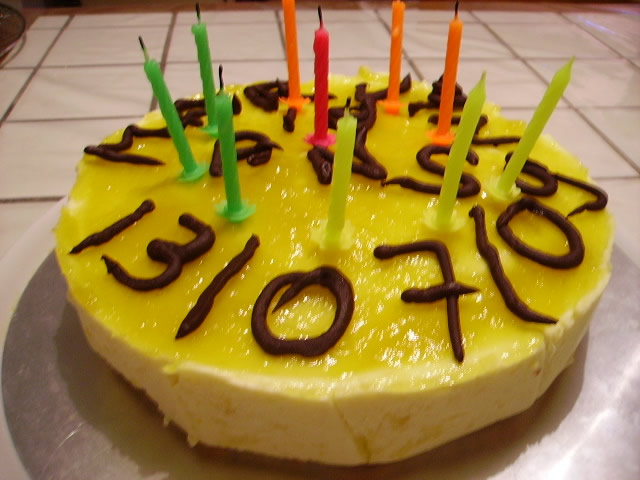 How can I do?
Dax:
Preheat oven to 180 ° C. Mix the almonds, icing sugar, vanilla powder and corn starch powder.
Beat the egg whites until very firm with a pinch of salt.
Stir in white dry goods as gently as possible so as not to break the whites with a rubber spatula.
Lined the bottom of a springform pan with parchment paper with baking paper (butter the walls) or silicone film special round pan, cook 20 min. Cool.
Orange Cream:
Beat the sugar and add the cornstarch, lemon juice and orange peel.
Place in a saucepan over low heat, stirring constantly with a whisk.
Cool.
Mango Cream:
Freeze mixing bowl and whip are used to assemble the cream.
Mix the mango puree Pour this into a saucepan and add the sugar, bring to a boil. 1 melee agar-agar and whisk until agard'agar agar agarl'agar completely absorbed.
Cool
Remove the bowl from the freezer and whip and whipped.
Pour mix the mango cream and gently stir, add the orange cream and very gentle.
Pour this mixture over the dacquoise and hop cool.
Mirror Mango:
Mix the mango, pour into a saucepan, add the sugar and bring to a boil. Agar Stir agarl'agar and whisk vigorously until completely absorbed.
Cool.
Pour in Bavaria before the full commitment of the mango puree and with a small spatula spread over the entire surface.
To get back in the refrigerator at least 3 hours and then in the device according to your taste.
Spin-off:
For those who want to have me a chance to have a silicone sheet, you can simply take the tabs one by one carefully and slide it gently, as the Bavarian plate (caution is, this cake fragile!)
For others (the less fortunate, so ...), just spend a sharp knife blade between the circle and the cake, and then remove the ring. After the operation is identical to the transaction record to the platter.
Ingredients:
Dax:


15g ground almonds


110g icing sugar


30g cornflour


150g egg whites (5 white for me)


1.2 cup to cup vanilla powder


1 pinch salt Cream Orange:


1 untreated orange (zest and juice)


2 eggs


Sugar 100 g


20g cornflour


30 g of milk cream with mango:


300 g mango pulp


80g sugar


1 cup C. Agar


Agar


350 ml cream-cold mango mirror:


100 g mango pulp


40g sugar


1 cup to cup agar


Agar


Total time:
Preparation + cooking time: 20 min
Yield:
8 people
---
Agar
,
Anniversary
,
Mango
,
Pie
,
Vegetarian Food
[related_posts_by_tax format="thumbnails" image_size="medium" posts_per_page="9"]