Help Teach Nepali Children Extra Curricular Activities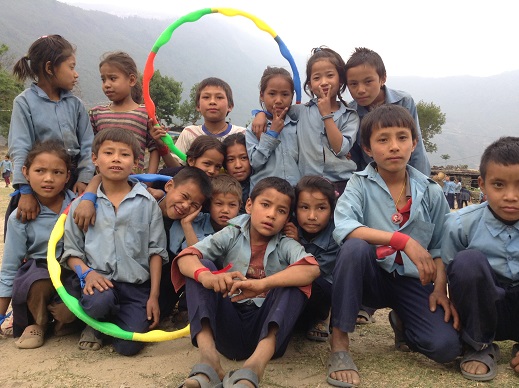 We have teaching opportunities at rural and urban sites. A short term opportunity could include a monitoring, teaching, and playing along with extracurricular activities, while longer duration could get specifically into a volunteer and school designed program to create a curriculum.
Conditions are not as comfortable as in the western world and volunteers are expected to adapt to existing conditions with minimal facilities. These positions require a minimum time commitment of one month.
Cost includes; Accommodation, Food, Airport transfers, Transfer to project, Accommodation at project site (not in Kathmandu while in transit).
Accommodation
If interested for the opportunity in Kathmandu, COMMITTED-Nepal has a contract with a housing facility within the office premises. Volunteers are required to stay at this facility that has a total of two rooms. Each room is for $10/day but can be shared with another volunteer, if desired. When shared, each volunteer would pay $5/day. The facility has a full kitchen with all ready appliances, one bathroom with hot shower, back up solar power, and 24/7 wi-fi. We require Kathmandu based volunteers to stay here as it is located within the office premises as well as the facility owners also live next door. Having such an arrangement helps COMMITTED to respond timely in cases of emergency. Past experiences have taught us to take this measure. Because of the location, COMMITTED's caretaker is able to prepare healthy Nepali meals for a very inexpensive price, if the volunteer desires to take this option.
If the rural site is opted, COMMITTED-Nepal will get the volunteer in touch with locals at our rural project site who will put you up as paying guests. Volunteers would need to work out pricing with them. Typically a local Nepali meal at the village will cost between $0.80 – $1.00 at the village and a night's stay could cost as much as $2.00. COMMITTED-Nepal staff will be in close contact with the volunteers at all times. Although we are not physically present at the village 24/7 we do typically visit the site at least once a month and we have built a very good rapport with the village and the school, having worked there for the past 5 years. During all days, when staying in Kathmandu during transit, if space is available at the city housing facility, the volunteer would stay at the prescribed COMMITTED-Nepal housing rate.
COMMITTED – Nepal will arrange airport pick up when landing upon arrival.
Qualifications requirements
Preference will be given to those who hold a degree from an accredited university.
Those currently enrolled in a 4-year university, graduating seniors, graduate students, and international students are welcome to apply. You must be at least 16 years of age to participate in our program. Skills requirements
Some experience in past sports coordination experience is preferred. Preference given to those with a background in arts and/or physical education. Physical fitness requirements
There are several hospitals in Kathmandu and other cities throughout Nepal. However, these hospitals can be limited in their scope, services, and practice. In the mountain villages, the health posts are even more limited and are few and far between. Given the remote location of Sindhupalchowk and the lack of amenities/conveniences such as motor transportation to and from the work site, COMMITTED – Nepal requires that any volunteer be in good physical health. It takes approximately 6-7 hours by bus in good weather to reach Kathmandu on a typical day. Additionally, COMMITTED – Nepal requires volunteers to have proof of international health insurance prior to his/her arrival that will cover medical evacuation is necessary. Compulsory languages
English Minimum age
16 Maximum age
70
In a typical day
We are seeking someone to work in the school with the administration (and teachers) to be a part of the sports program recently initiated at the rural site. Such a program is in planning but yet to start in Kathmandu. On a long term basis, we are also looking for someone to create and implement extracurricular activities program, meaning some type of sports, crafts, photography, drawing, painting, music, or combination of these type program for the school. We would need someone who could come up with lesson plans, activities, and then implement them in the school for a minimum of three months. This would require working at the school on a daily basis when the school is in session. The school day typically begins at 8-9 a.m. and lasts until 3-4 p.m., including a lunch break. Due to the nature of this position, the volunteer would not be working throughout the school day, but would work after school hours and potentially on weekends, depending on the arrangement with the school. Currently, for short term volunters prefecting and playing along with physical extra curricular activities are possible.